HVFF SERIES
"HAND VALVES, SHUT-OFF VALVES, PLASTIC PNEUMATIC VALVES "are used for turning air pressure on and off for pneumatic devices.
The H.A.K. HVFF series hand valve its two ways hand control valve and it does not have air discharged mechanism, is suit for air supply to a tank or other devices from which the residual pressure should not be discharged.
The two directional control valve is also suited for the system where vacuum piping is used.
H.A.K hand valves pneumatic push in fittings are designed for use with polyurethane and nylon tubing that accommodate metric tubing O.D. ranging from 4mm to 16mm and accommodate inch tubing O.D. ranging from 1/8" to 1/2".
---
Construction/Specification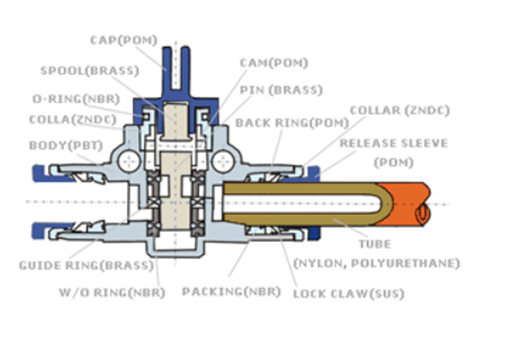 | Fluid Admitted | Air, Vacuum, Water (no freezing) |
| --- | --- |
| Body material | PBT Plastic |
| Thread Material | Nickel Plated Brass |
| Seal, O-ring | NBR |
| Working Pressure | 0~1.0 MPa, 0~150psi |
| Proof Pressure | 3.0MPA, 435psi |
| Negative Pressure | 100Kpa, -29.5 In Hg |
| Working Temperature | 0~60℃, 32-140°F |
| Lock Claw | Stainless Steel (SUS) |
| Applicable Tube | PU / PA / PE / PVC |
---
Dimensions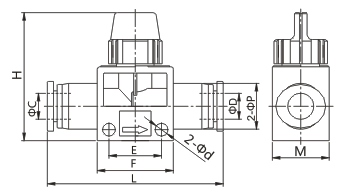 | Model | O.D.D. | C | 2-O.P. | E | F | F | L | H | M |
| --- | --- | --- | --- | --- | --- | --- | --- | --- | --- |
| HVFF 1/8" | 1/8" | 1/8" | 11.5 | 11.5 | 11.5 | 34 | 52 | 41 | 18 |
| HVFF 5/32" | 5/32" | 5/32" | 13.5 | 13.5 | 12.5 | 35.5 | 52 | 41 | 18 |
| HVFF 3/16" | 3/16" | 3/16" | 15 | 15 | 15 | 38.5 | 52 | 41 | 18 |
| HVFF 1/4" | 1/4" | 1/4" | 19 | 19 | 19 | 48 | 63 | 45 | 22 |
| HVFF 5/16" | 5/16" | 5/16" | 21.5 | 21.5 | 21.5 | 49 | 63 | 45 | 22 |
| HVFF 3/8" | 3/8" | 3/8" | 23.5 | 23.5 | 23.5 | 48 | 63 | 45 | 22 |
| HVFF 1/2" | 1/2" | 1/2" | 26.5 | 26.5 | 26.5 | 64 | 63 | 45 | 22 |
---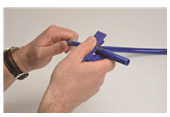 Learn More: Assembly Instructions

HVFF SERIES "Push to Connect 3 Way Hand Valve Union"