JSC series flow control valve / speed controller for metric and inch size tube, NPT connection thread.
H.A.K. speed controller valve capable of adjusting the speed or the flow rate of compressed air. The speed controller bodies can be rotated after installation to allow for variation in piping direction.
Composite right angle flow control-out valves (pneumatic fittings – meter-out speed controllers) adjust the speed for air flow from thread to tubing.
Composite
---
Construction/Specification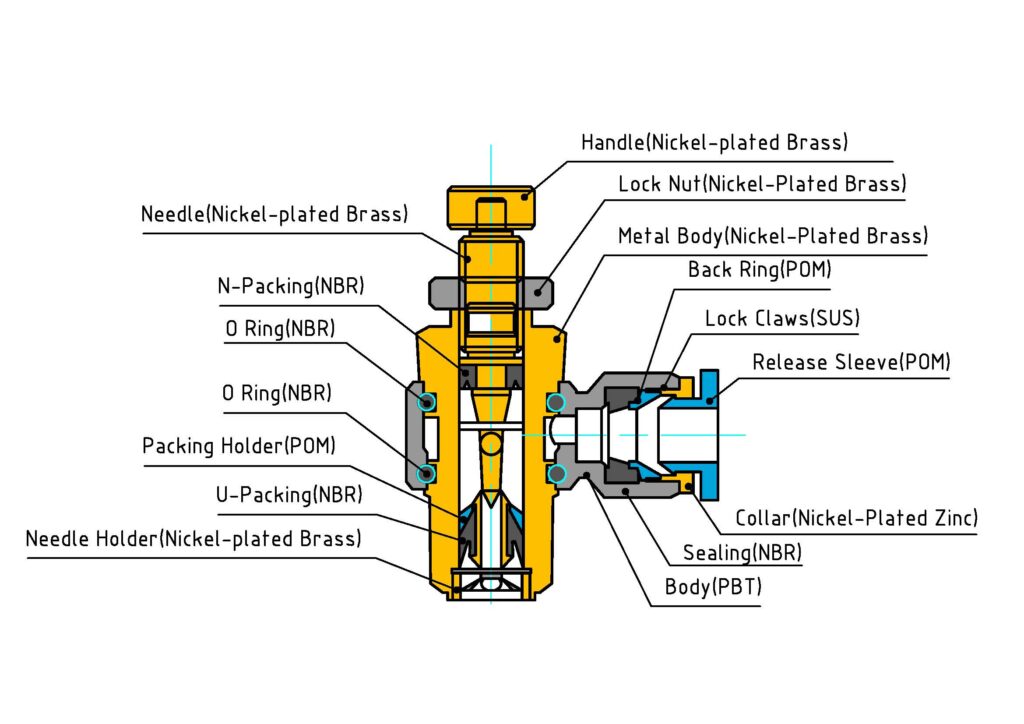 | Fluid | Air, Vacuum |
| --- | --- |
| Operating Pressure | 0~1.0 MPa |
| Max Pressure | 1.5 MPA |
| Operating Temperature | 5~60℃ |
| Applicable Tube | PU Polyurethane and Nylon |
---
Dimensions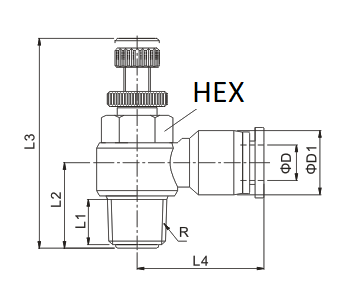 | Model | Tube O.D. | R | L1 | L2 | L3 | Tube O.D. 1 | | |
| --- | --- | --- | --- | --- | --- | --- | --- | --- |
| JSC 4-M5 | 4 | R5 | 3.2 | 12 | 32 | 20.5 | 11.5 | 8 |
| JSC 4-01 | 4 | R1/8 | 6.4 | 14 | 42 | 23.5 | 11.5 | 12 |
| JSC 4-02 | 4 | R1/4 | 10 | 18 | 48 | 25.5 | 11.5 | 14 |
| JSC 6-M5 | 6 | R5 | 3.2 | 12 | 32 | 22 | 13.5 | 8 |
| JSC 6-01 | 6 | R1/8 | 6.4 | 14 | 42 | 23.5 | 13.5 | 12 |
| JSC 6-02 | 6 | R1/4 | 10 | 18 | 48 | 25.4 | 13.5 | 14 |
| JSC 6-03 | 6 | R3/8 | 11.4 | 20.5 | 53 | 29.5 | 13.5 | 19 |
| JSC 6-04 | 6 | R1/2 | 14 | 25.5 | 61 | 32.5 | 13.5 | 24 |
| JSC 8-M5 | 8 | R5 | 3.2 | 13 | 32 | 25 | 15 | 8 |
| JSC 8-01 | 8 | R1/8 | 6.4 | 14.5 | 42 | 26.5 | 15 | 12 |
| JSC 8-02 | 8 | R1/4 | 10 | 19 | 48 | 28.9 | 15 | 14 |
| JSC 8-03 | 8 | R3/8 | 11.4 | 20.5 | 53 | 29.8 | 15 | 19 |
| JSC 8-04 | 8 | R1/2 | 14 | 25.5 | 61 | 32.5 | 15 | 24 |
| JSC 10-01 | 10 | R1/8 | 6.4 | 17.5 | 42 | 30.3 | 19 | 12 |
| JSC 10-02 | 10 | R1/4 | 10 | 20 | 48 | 32.6 | 19 | 14 |
| JSC 10-03 | 10 | R3/8 | 11.4 | 22.5 | 53 | 33 | 19 | 19 |
| JSC 10-04 | 10 | R1/2 | 14 | 25.5 | 61 | 36 | 19 | 24 |
| JSC 12-01 | 12 | R1/8 | 6.5 | 18.5 | 42 | 31 | 21.5 | 12 |
| JSC 12-02 | 12 | R1/4 | 10 | 20 | 48 | 33.5 | 21.5 | 14 |
| JSC 12-03 | 12 | R3/8 | 11.4 | 24 | 53 | 35.5 | 21.5 | 19 |
| JSC 12-04 | 12 | R1/2 | 14 | 30 | 61 | 36.5 | 21.5 | 24 |
---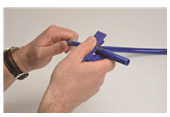 Learn More: Assembly Instructions

JSC SERIES "Push to Connect Speed Control METER OUT NPT Male"