H.A.K. Pneumatic Brass Electric Solenoid Valve (2way / 2 Position) Normally Open, NPT 3/8″ (2W160-10 NO)
Description:
Pneumatic Solenoid Valve Type: 2 Port 2 Position Normally closed type; Voltage: DC12V /DC24V / AC24V 50/60Hz / AC110V 50/60Hz / AC220V 50/60Hz.
High Quality Valve body is made of brass material, with long serving life, diaphragm seal, sensitive movement, the high-quality brass valve body would hold a press up 0.7 MPa.
This is a normally Open type of electric solenoid valve, power on to Close it and power off to Open it.
The coil protection level is IP65.
Precautions for Use: Better for intermittent short time work, single continuous power on time is better to be less than 15 minutes, which will extend valve's life.
Wide Range of Uses: This brass electric solenoid valve easily replaces broken valves, suitable for use with pipelines in water, Gas, air, low viscosity non-corrosive fluid applications.
ALL standard valves are supplied with Continuous Duty Coils of the proper class of insulation for the service indicated on the valve. It is normal for the coil temperature may become hot after being energized for extended periods. Smoke or burning odor indicates excessive coil temperature and the power should be disconnected to the coil immediately.
---
Dimensions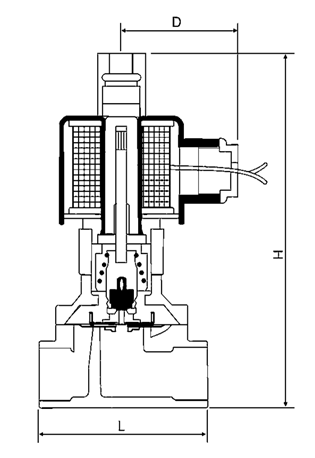 | Model | H | L | D |
| --- | --- | --- | --- |
| 2W160-10 NO | 126 | 66 | 62 |
---
Specification
| Model | 2W160-10 NO |
| --- | --- |
| Working Medium | Air, Water, Oil, Gas |
| Operation | Direct |
| Type | Normal Close |
| Orifice | 16 mm |
| CV Value | 4.8 |
| Port Size | 3/8″ |
| Operation Fluid Viscosity | Below 20 CST |
| Working-pressure | Air 0~0.7 MPa; Water 0~0.5 MPa; Oil 0~0.5 MPa |
| Max. Test Pressure | 1.0 Mpa (Normal Open type max. pressure0.8MPa) |
| Max. Ambient Temperature | -10~ 80℃ |
| Operating Voltage Tolerance | ± 10% |
| Material of Body | 2W: Brass |
| Material of Oil Seal | NBR |


H.A.K. Pneumatic Brass Electric Solenoid Valve (2way / 2 Position) Normally Open, NPT 3/8″ (2W160-10 NO)